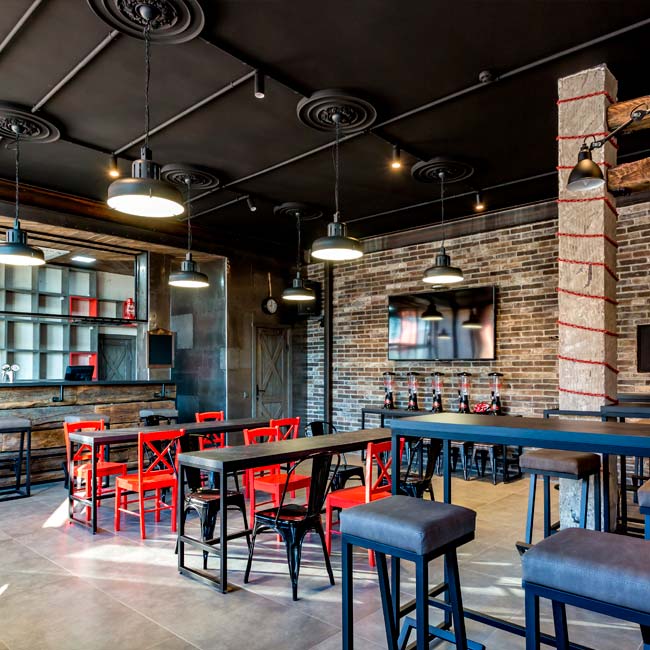 Commercial A/V Installation
Digital21 allows you to leverage the latest in commercial audiovisual installation to grow your business. Your customers will benefit from commercial applications for everything from multi-room audio and video to lighting and security. We can show you how automation helps provide the ultimate guest experience, creating comfortable environments that also wow and dazzle. You can exceed expectations by creating memorable, interactive experiences using our commercial audiovisual installation professionals.
Ultimate Hosting for Restaurants and Bars
Our team of commercial experts will look for opportunities to create a welcoming environment designed to dazzle your patrons. Today's customers are seeking exceptional experiences that are experiential and inspired. We can help you create a welcoming place that encourages repeat patronage and inspires social media buzz that attracts new customers.
With the right commercial TV installation, sights and sounds set the mood for your business, attracting customers again and again. From beautiful screens to pristine sound systems and integrated lighting to ideal temperatures, your guests will discover the perfect mood and setting for their socializing. A professional bar TV setup provides the ideal spot for people to gather and watch the game.
Improved Meeting Facilities
If your restaurant offers meeting or small group event facilities, you can also up your game with a state-of-the-art audio-visual system. Guests can create impressive presentations whether it is for a bridal shower or a business luncheon. Digital21 can provide commercial audiovisual installation for seamless, smooth presentations that incorporate everything your guests need. Presentation tools such as smart boards and high def displays will impress your guests without the worry of technical difficulties. We will ensure the technology is installed with discrete cabling and wireless solutions that make it easy to present high-quality engaging presentations.
Smart Security for Businesses
Behind the scenes, our team can install security systems that let you keep an eye on your business from almost anywhere. Monitor front-of-house, kitchen and prep areas, exteriors and entrances with smartphone controls at your fingertips. You can reduce worry and remain focused on profitability and meeting the needs of your patrons. With a smart security system, you can gain peace of mind by monitoring the most common threats to your business.
Whether it is theft by staff or customers, vandalism to your property or improper procedures in the kitchen that put your business at risk, a smart security system, allows you to monitor your business from your smartphone, laptop or computer. You maintain control of your operation whether it is a small local café or a multi-level bar. Locations that pose a threat for safety such as underground parking garages, locker rooms and service elevators can also remain more secure with video surveillance. If you have more than one location, you can maintain control of all your sites from your smartphone.
Smart security systems allow you to collect video footage to prove your staff members have behaved inappropriately. This can help ensure compliance to maintain industry best practices to protect your guests from poorly managed food. You can also ensure the safety of your team with the added protection of video surveillance.
Let our team provide commercial audiovisual installation and security solutions for your business. Reach out to our experts today.
Interested in simplifying your home entertainment or commercial needs? Fill out our contact form and we will have someone get back to you as soon as possible. Your connected home awaits!